All about DietaryChoiceTM – the latest DNA-based report focussed on eating behaviour and obesity powered by Fitgenes
Article author: Cristina Fortuno, PhD
Dr Fortuno is genetic scientist with focus on human health, and has a PhD (University of Queensland) in Human genetics.
Fitgenes has just released DietaryChoice™, a new DNA-based report that focuses on the interaction between the genetics of eating behaviour and associated risks with obesity and health.
It also provides personalized recommendations on nutrigenomic, nutritional, and exercise regimes based on each individual's genetic results.
What is the motivation behind DietaryChoiceTM?
Obesity is a very complex disorder which is typically defined as carrying an excessive amount of body fat. This is a growing global issue which is not merely a cosmetic concern for individuals, but also a major risk factor for cardiovascular disease, diabetes, hypertension, and certain cancers, and additionally a societal concern for ballooning health care costs.
Despite its intuitive attractiveness, the concept of considering "energy in vs. energy out", or making sure you burn more calories than you eat, is not really that simple. The body has multiple mechanisms that can make weight loss difficult, from upregulating genes to store energy as fat if you fast, or even modifying your hunger or satiety ("fullness") cues to increase consumption, or causing you to prefer or even crave certain foods that are likely to add sugars and fat to the diet.
Understanding the underlying causes of obesity through genetics can potentially be incorporated into a patient's weight management strategies for more efficient outcomes.
What is the relevance of genetics?
It's not surprising that multiple scientific studies have identified an array of genes expressed in the brain to be associated with obesity.1 While various physiological and environmental factors can contribute to obesity, such as diet, physical activity, socioeconomic status, or smoking, the risk of obesity is strongly influenced by inherited factors. In fact, research has estimated the heritability of obesity to be between 40% and 70%.1Interestingly, the genes most often discussed in mainstream media in relation to obesity and weight management are not those involved in fat burning or storage but are behavioural.
Why did you choose the genes that are included in DietaryChoiceTM ?
FTO, the fat mass and obesity associated gene is the most significantly associated gene with obesity, and controls eating behaviour via satiety signals in the hypothalamus.2 A high-fat diet can increase FTO expression and lead to control and feeling full after eating, while fasting downregulates FTO, increasing food intake.3 For this reason, for people with the FTO risk variant that are struggling to achieve a healthy weight, a diet relatively high in healthy fats can be especially recommended. The LEPR gene produces the receptor for the hormone leptin, which regulates hunger levels by signalling the brain to stop feeling hungry and start spending energy. Genetic variations in LEPR can decrease the efficiency of the receptor, causing leptin resistance, and leading to increased food intake and decreased energy expenditure.4 Studies suggest that the LEPR gene could be used to personalize dietary recommendations to prevent childhood obesity.5 The MC4R gene regulates energy balance, food intake, and body weight. Truncating variants in this gene are the most common cause of monogenic obesity, while less harmful variants can affect appetite and increase the risk of more common types of obesity.6 Lifestyle interventions have been found to be more successful in managing patients with these variants in the long term.
Whilst there are gene-specific interventions, general recommendations for individuals genetically predisposed to not feeling satiated after eating normal amounts of food include: consuming more foods rich in fibre, high protein/low carb and high fat diets (which suppress appetite better than low fat diets or caloric restriction), water-rich foods (vegetables, salads, soups, etc), avoid sugary foods and eating while watching TV or between meals. On the other hand, a higher-than-normal satiety feeling could also contribute to difficulty gaining weight in people that are underweight, which is worth investigating.
But satiety is not the total story when it comes to the genetics of weight management.
There are other gene factors that can affect our food preference and cravings. One such mechanism is taste perception, where genetic variants can influence the way we perceive certain food groups and therefore our food selection and overall health. TAS2R38 is one of the most studied taste receptor genes, and variations can cause people to be "super-tasters or tasters" (most sensitive to the bitter taste, and therefore tend to eat less of this) versus "non-tasters" (less sensitive to bitter taste, leading to eating more). Not surprisingly, the non-taster genotype has been associated with a higher obesity risk than the other two groups.7 These people tend to have higher reported food intakes, higher fruit and vegetable intake, spicy food intake, and higher alcohol consumption.8
Similarly, differences in sweet taste perception are mostly influenced by variations in the TAS1R2 and TAS1R3 genes. People with a reduced gene expression have reduced sweet taste sensitivity and are considered as "sweet likers", while people with normal expression are considered as "sweet dislikers". According to multiple studies, sweet likers are more likely to report higher amount of sweet food intake, and also higher carbohydrate consumption,9 which translates into a higher risk of obesity. To make things a bit more complicated, individual preferences for sweet food are also independently influenced by the GLUT2 gene, which plays a crucial role in glucose-sensing in the brain. Research has shown that GLU2 genetic variation is associated with a greater consumption of sweets and sweetened beverages,10 and an increased risk of diabetes.11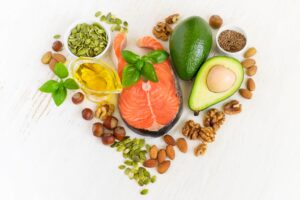 Even though not part of the five basic tasters, fat is also considered a type of taste. Fatty food's texture, olfaction, and oral irritation contribute to their rewarding effect. Fatty acids are detected via specialised sensors in the tongue such as the CD36 receptor. Some studies investigated the relationship between CD36 and diet, finding that CD36 genetic variants were associated with a reduced fat taste perception which, in turn, was associated with an increased fat intake and obesity risk.12,13
How could DietaryChoiceTM help?
There is now a large body of clinical evidence that identifying a genetic predisposition to obesity, whether it be due to decreased satiety or individual food preferences, can provide useful information for a practitioner, and also act as a potent motivator for their patient to make informed decisions about their diet choices and maintain a healthy lifestyle, supporting weight management.
How can I get DietaryChoiceTM?
This report is available through Fitgenes-Accredited Practitioners and is a requested add-on when your practitioner orders a Fitgenes Health and Wellbeing Report™. DietaryChoiceTM is a complimentary "add on" when you purchase a Health and Wellbeing Report until 31st December 2023. After that time, enquire about availability and pricing.
If you are interested in more information about DietaryChoiceTM, or to locate a Fitgenes Practitioner, please contact us at enquiries@fitgenes.com
REFERENCES
Loos, R. J. F., & Yeo, G. S. H. (2022). The genetics of obesity: from discovery to biology.Nature reviews. Genetics, 23(2), 120–133. https://doi.org/10.1038/s41576-021-00414-z
Loos, R. J., & Yeo, G. S. (2014). The bigger picture of FTO: the first GWAS-identified obesity gene.Nature reviews. Endocrinology, 10(1), 51–61. https://doi.org/10.1038/nrendo.2013.227
Tung, Y. C., Gulati, P., Liu, C. H., Rimmington, D., Dennis, R., Ma, M., Saudek, V., O'Rahilly, S., Coll, A. P., & Yeo, G. S. (2015). FTO is necessary for the induction of leptin resistance by high-fat feeding.Molecular metabolism, 4(4), 287–298. https://doi.org/10.1016/j.molmet.2015.01.011
Obradovic, M., Sudar-Milovanovic, E., Soskic, S., Essack, M., Arya, S., Stewart, A. J., Gojobori, T., & Isenovic, E. R. (2021). Leptin and Obesity: Role and Clinical Implication.Frontiers in endocrinology, 12, 585887. https://doi.org/10.3389/fendo.2021.585887
Marcos-Pasero, H., Aguilar-Aguilar, E., Colmenarejo, G., Ramírez de Molina, A., Reglero, G., & Loria-Kohen, V. (2020). The Q223R Polymorphism of the Leptin Receptor Gene as a Predictor of Weight Gain in Childhood Obesity and the Identification of Possible Factors Involved.Genes, 11(5), 560. https://doi.org/10.3390/genes11050560
Xi, B., Chandak, G. R., Shen, Y., Wang, Q., & Zhou, D. (2012). Association between common polymorphism near the MC4R gene and obesity risk: a systematic review and meta-analysis.PloS one, 7(9), e45731. https://doi.org/10.1371/journal.pone.0045731
Chupeerach, C., Tapanee, P., On-Nom, N., Temviriyanukul, P., Chantong, B., Reeder, N., Adegoye, G. A., & Tolar-Peterson, T. (2021). The influence of TAS2R38 bitter taste gene polymorphisms on obesity risk in three racially diverse groups.BioMedicine, 11(3), 43–49. https://doi.org/10.37796/2211-8039.1175
Calancie, L., Keyserling, T. C., Taillie, L. S., Robasky, K., Patterson, C., Ammerman, A. S., & Schisler, J. C. (2018).TAS2R38Predisposition to Bitter Taste Associated with Differential Changes in Vegetable Intake in Response to a Community-Based Dietary Intervention. G3 (Bethesda, Md.), 8(6), 2107–2119. https://doi.org/10.1534/g3.118.300547
Han, P., Keast, R. S. J., & Roura, E. (2017). Salivary leptin and TAS1R2/TAS1R3 polymorphisms are related to sweet taste sensitivity and carbohydrate intake from a buffet meal in healthy young adults.The British journal of nutrition, 118(10), 763–770. https://doi.org/10.1017/S0007114517002872
Eny, K. M., Wolever, T. M., Fontaine-Bisson, B., & El-Sohemy, A. (2008). Genetic variant in the glucose transporter type 2 is associated with higher intakes of sugars in two distinct populations.Physiological genomics, 33(3), 355–360. https://doi.org/10.1152/physiolgenomics.00148.2007
Thorens B. (2015). GLUT2, glucose sensing and glucose homeostasis.Diabetologia, 58(2), 221–232. https://doi.org/10.1007/s00125-014-3451-1
Sayed, A., Šerý, O., Plesnik, J., Daoudi, H., Rouabah, A., Rouabah, L., & Khan, N. A. (2015). CD36 AA genotype is associated with decreased lipid taste perception in young obese, but not lean, children.International journal of obesity (2005), 39(6), 920–924. https://doi.org/10.1038/ijo.2015.20
Daoudi, H., Plesník, J., Sayed, A., Šerý, O., Rouabah, A., Rouabah, L., & Khan, N. A. (2015). Oral Fat Sensing and CD36 Gene Polymorphism in Algerian Lean and Obese Teenagers.Nutrients, 7(11), 9096–9104. https://doi.org/10.3390/nu7115455