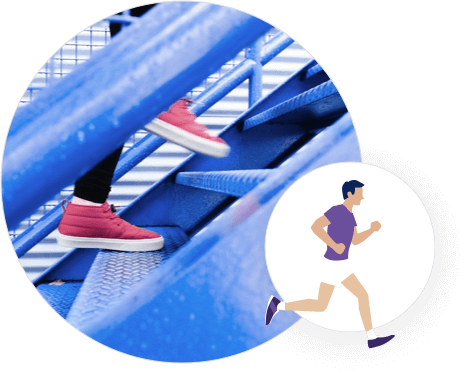 Why choose a Health & Wellbeing Report?
The genes in every human being exist as a pair, and like every close relationship, sometimes our genes don't get along and don't team up as well as others.
These genetic variations are the focus of Fitgenes' Health & Wellbeing Report, a comprehensive analysis of your personal genetic profile and how the variants in your genes can influence your fitness and your general health.
Fitgenes will review specially selected genes to assist you and your practitioner determine diet and lifestyle choices suited to your DNA.

Our Health & Wellbeing Report will outline gene variations, and whether peer-reviewed science suggests they're beneficial or not. Remember, many genetic variations can be managed or compensated for; your practitioner will step you through this process.
One or both of the genes in the pair contributes to normal, healthy function.
One of the genes in the pair is contributing to a situation that impairs healthy function.
Both of the genes are contributing to a situation that impairs healthy function.
A little about our Practitioners
A little about our Practitioners
Fitgenes Accredited Practitioners are trained to interpret our Health & Wellbeing Report to design personalised and targeted nutrition, exercise and lifestyle interventions (complementing their own assessments).
Fitgenes Practitioners are independent medical and allied health professionals using their own expertise to offer advice based on Fitgenes genetic reports.
If you want to maximise your potential for healthy living and ageing, the secret may lie in your genes.
Match your diet to your genes
Match your diet
to your genes
Everything you eat has an effect on your genes; they can't be changed, but you can turn them on and off by making the right dietary choices.
If you know your genes, you can make more informed decisions about your diet to maximise your health.
The benefits of Fitgenes
The benefits of
Fitgenes
Pre Diabetes
Sports performance
Obesity
Dietary intolerances and sensitivities
General health and wellbeing
Nutrition
Nutrition
It is well known that good nutrition is essential for a healthy lifestyle, as it affects growth and development, health and wellbeing.
There are seven major classes of nutrients; carbohydrates, fats, fibre, minerals, proteins, vitamins, and water. A healthy diet needs a balanced consumption of all these nutrients.
Each of our reports is supported by nutritional requirements underpinned from the Nutrient Reference Values for Australia and New Zealand. Further information can be found by visiting https://www.nrv.gov.au/
What the report will tell you
What the report
will tell you
Fitgenes Health and Wellbeing Report will explain the effects of your genetic variants, with reference to the following physiological groupings.
Inflammation – your body's reaction to injury or disease
Cell Defence – the systems that respond to invading pathogens
Vitamin D Receptors – the protein that processes your Vitamin D
Methylation
Homocysteine Metabolism – the proper functioning of metabolic pathways and efficient enzyme activity.
Cardiovascular Health – what role your genes play in heart health
Fat Metabolism and Cholesterol – how well your genes help you process fatty foods
Health & Wellbeing
Contact us and we'll put you in touch with an Accredited Fitgenes Practitioner
Your privacy is important to us
Fitgenes takes your privacy very seriously. We don't share or sell data and have an extremely high level of protection when we manage your samples and data, using bank-level encryption and 24 hour security.